A truffle is the underground fructification of a mushroom within the Tuber genus. Although some mushrooms can grow on decaying organic matter, truffles need to establish symbiosis with tree roots in order to develop. This ectomycorrhizal relationship between the tree and the mushroom has eluded us for a very long time. Indeed, even though Egyptians had already praised the wonders of truffles 2600 years B.C., the first successful truffle cultivation attempt has only been recorded in 1810.

Cultivated species
Out of more or less 200 truffle species, only a few are cultivated. The black Périgord truffle, Tuber melanosporum, is probably the most renowned of them, whereas the white Piedmont truffle, Tuber magnatum, is the most expensive. The climate of Québec is however unfavourable to the culture of both species. ArborInnov thus selected three other truffles of gastronomic essence to cultivate.
Burgundy Truffle
(Tuber uncinatum)
---
The Burgundy truffle has been around for a longer period of time than its Périgord counterpart. Still, we are less familiar with the former in North America. Gourmets, prepare to be seduced by the remarkable bouquet of  Tuber uncinatum: an exquisite earthy aroma enriched by a generous splash of hazelnut and almond. Outstanding in salads, on pasta, or with cheese!
It is worth noting that the summer truffle (Tuber aestivum) is actually the Burgungy truffle developing under different environmental conditions.
Bianchetto Truffle
(Tuber borchii)
---
This white truffle is hardier than her Piedmont cousin. Although sometimes overlooked by gourmets, it is an honorable alternative to the pricey Tuber magnatum, worth around 4000$CAD/kg. The trick of the trade is to harvest the Bianchetto just at the right moment, when its bold garlicky fragrance is well-balanced. Only then will one truly grasp how this little gem found its way to our kitchens. To be enjoyed grated over hot dishes, or simply raw!
Appalachian Truffle
(Tuber canaliculatum)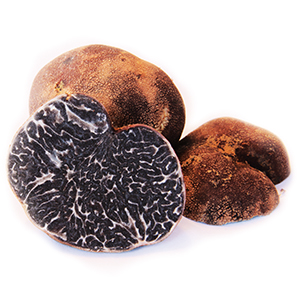 This 2 to 12 cm truffle can be harvested
from August to December.
---
Who would have though North America nurtured a truffle capable of pleasing the most selective palates? Very chic with its cinnamon-colored skin and black and white flesh, the Appalachian truffle is one of our local best kept secrets. Its powerful sweet and musky aroma adds an exquisite touch to risotto, pasta, or eggs.
The truffle life cycle
---
A truffle is a symbiotic hypogeal mushroom. Aside from their lack of chlorophyll,  and thus their lack of photosynthesis capabilities, mushrooms also differ from plants regarding their life cycle. The cycle of true and false truffles, since totally performed underground, is called hypogeal. Moreover, it can only be completed if the mushroom develops a special association with tree roots, from which both partners benefit: a symbiosis.
ArborInnov offers quality truffle plants. Please contact us to request for a quotation.
---